Sun Prairie's Best Chiropractor Helping You Feel & Function Better
Chiropractic Care • Digital X-Ray • Therapeutic Exercise
Schedule Your Appointment
Perform At
Your Highest Level
Are Your Symptoms Limiting Your Life?
"Honestly, I've never felt so well cared for during my first appointment…we set a plan TOGETHER to reach my goals…I have no doubt Drs. Steph and Jonathon will continue to take great care of me."
Carla D.
Patient
Understand Your Problem
We will LISTEN to you and gather information through additional testing and x-rays.
Get
Clear Results
Not only will you be feeling and functioning better, the changes in your x-rays will prove it.
Equip You With The Tools
We'll teach you proper home care to ensure you continue to live your best life with care from a chiropractor.
Noble Choice Chiropractic Can Help All Types Of Conditions
Headaches
Sleep Problems
Asthma & Allergies
Posture Correction
We Also Specialize In Injury Care
Car Accidents
Work Accidents
Discover How Noble Choice Chiropractic Has Helped People Like You Achieve Their Goals
What Makes Noble Choice Chiropractic So Different?
Noble Choice Chiropractic was founded in 2013 by Drs. Jonathon and Steph Pinnow. "Noble" is a nod to Dr. Steph's maiden name because, as Dr. Steph puts it, "I worked too hard throughout school as a Noble to leave my roots in the dust". Both Doctors firmly believe that participation in one's own health is a choice, therefore Noble Choice Chiropractic was born.
Drs. Jonathon and Steph opened their office with new graduate optimism and high hopes of helping the community of Sun Prairie. They wanted to adjust people just enough to get them out of pain with instructions to "return when the pain does." To their credit, they did just that. However as the years passed, they noticed a theme of seeing the same complaints with the same people, almost as if everyone was stuck in a never-ending pain cycle.
The Doctors took a step back to evaluate their practice and their patients. What seemed to be working in the short term did not yield any long-term changes. Chiropractic is about life, vitality, and longevity.
Were they doing a disservice by offering only pain relief when care from a chiropractor is about so much more?
Could they be offering something better?
Could they teach the community to take control of their health?
The answer was YES!
The Doctors began to make radical changes in their office. They re-focused on understanding each patient's problem, analyzing x-rays, setting goals, and creating care plans individualized to that person.
The results were outstanding. Not only did patients report significantly less pain, or none at all, they functioned better! Acid reflux complaints decreased, digestion and energy improved, sleep and mobility were restored, overall people just felt happier.
Since then, Noble Choice Chiropractic has exploded in growth while making each patient feel cared for and important. They pride themselves on the feedback that patients always feel welcome in their office. Drs. Jonathon and Steph truly believe that each person they meet brings something new and valuable, not only to the practice but to their lives. They are excited to meet you, learn from you, and welcome you into their family!
Our co-founder Dr. Steph Pinnow was honored to be chosen as Chiropractor of the Year.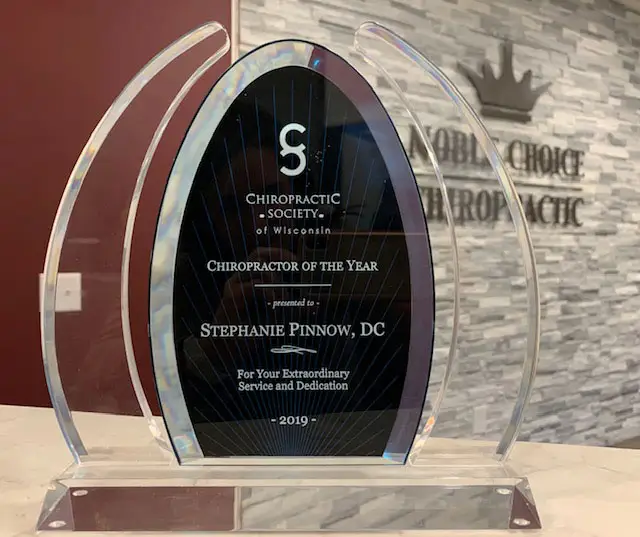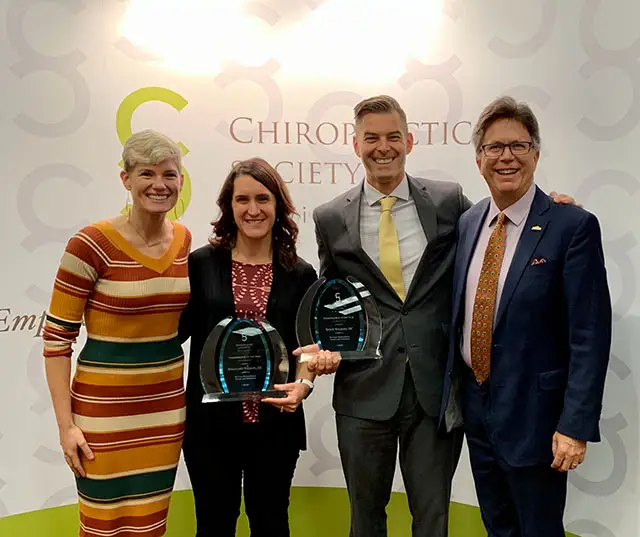 Most policies have Chiropractic Coverage and we are proud providers for most major insurance companies. We would be happy to check your policy for you.
How The Noble Approach Works
Stop masking the symptoms and get to the root cause of the problem
1. Understand your Goals
Whether it's pain relief, more flexibility, better sleep or mood, we'll set your goals together.
2. Create A Custom Plan
Our chiropractor believes every person is unique and your care plan should reflect that.
3. Take Back Your
Life
Attack those activities that you've been avoiding and live life on YOUR terms.
How Does Noble Choice Chiropractic Help You Achieve A Better Quality Of Life?
What Could Not Fixing This Problem Cost You?
"I wish I would have found you sooner."
These are real words we hear too often. While most people associate cost with money, not fixing the problem could cost you in other facets of your life.
Maybe you're not getting that promotion because you're distracted by your pain. Or your kids are begging you to play with them after work but you're unable to get off the couch. You could be snapping at your spouse for insignificant nuisances because your fuse is shorter than ever. Maybe you're just not a happy person anymore.
Unfortunately, many of our patients come to us after unsuccessfully trying medication, doctor's recommendations, and other therapies, resulting in high medical costs and unnecessary visits. They are sick of spending money with little to no results, stuck in the same medical cycle.
Maybe you've spent weeks, months, even decades of your life desperately trying the same approach with the same results. The longer your problem persists, the more expensive it is. It costs you more than time, energy, and money. It costs you freedom from your pain.
Don't be one of the people who regret not seeking help sooner. Now is the best time to take control of your health.